Why We Chose Stifel
We believe it's critical for financial advisors to have access to the latest research and products to support clients and client relationships – and that's precisely why we chose Stifel.
Combining a broad array of innovative products and services with clear, proactive client communication, we help our clients pursue their short- and long-term goals. Stifel also matches their client service with superb product support.
Whether you're interested in working at Stifel, or you're thinking about becoming a client, please contact us.
www.stifel.com | Stifel Wealth Tracker
Investment Philosophy
Our investment philosophy is built around two essential elements: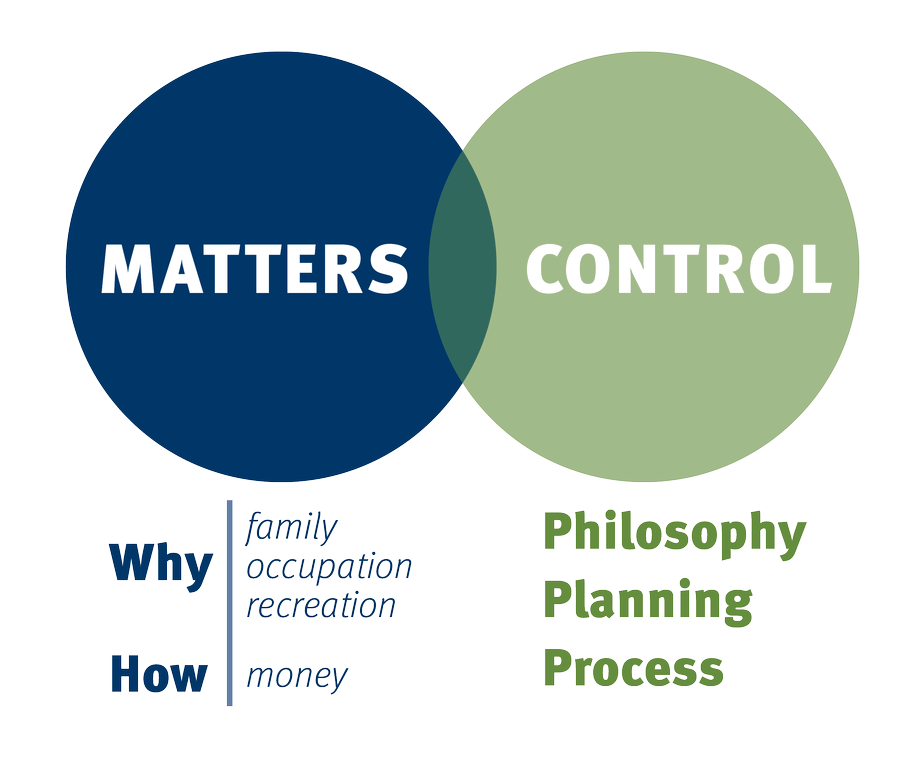 What Matters to You
Our mission is to simplify your financial roadmap so you can work toward retiring with confidence. Using a process we call the "Cathedral FORMula," we take the time to listen carefully to you to understand everything we can about your:
Family
Occupation
Recreation
Money
What We Can Control
Now we jump to the control side of the diagram. In life, there are many aspects that are out of our control and, frankly, we don't spend a lot of time worrying about them. Instead, we focus on the set of your sail rather than the direction of the wind.
Philosophy. As we work together, we will ask you questions regarding your total assets, accumulated wealth, risk tolerance, and time horizon.
"Our role is stewardship, not salesmanship."
Planning. We will create customized plans based on your goals and periodically review and update your portfolio as life changes occur.
Process. Everything we do is driven by an established process and set to synchronize with your current and future needs.
By integrating both of these elements, we can work toward your ideal financial future.
Adam Chustz, CDFA®
Senior Vice President/Investments

Through a highly developed and refined process, Adam helps a select group of high-net-worth families manage their wealth toward confidently leaving an investment legacy across generations. He prides himself on working hard for his clients, staff, and family.

Originally from Hammond, Louisiana, Adam moved to Kentucky to earn a Bachelor of Science in Finance from Murray State University. Upon graduation, he relocated to St. Louis to help develop new financial advisors in the Training Department at Edward Jones. He helped open a successful branch in St. Louis with many wonderful clients before moving back to Kentucky in 2006. After 17 successful years at Edward Jones, he joined Stifel for its comprehensive tools and platforms, nationally recognized research capabilities, technology development, and flexible culture.

Adam believes community involvement is very important and believes in giving back. He is a member of the Oscar Cross Boys and Girls Club Board of Directors and past president of the Country Club of Paducah.

Adam lives in Paducah with his son, Coen. They both love discussing their favorite sports teams and players. Adam also coaches his son's football and basketball teams. In his personal time, he enjoys being active, playing tennis, traveling, cooking, and being outdoors.

As an experienced financial advisor, Adam believes the process of helping his clients plan and pursue their goals still is as fulfilling and invigorating as when he first entered the industry.

E-mail Adam.

Elliot C. Treece
First Vice President/Investments

Elliot began his investment services career in 2012 and joined Stifel in 2018. Prior to joining Stifel, he served as a financial advisor with Edward Jones, where he focused on forming long-term relationships with a select group of high-net-worth individuals and families.

Prior to becoming a financial advisor, Elliot earned a B.S. in Biology with a minor in Chemistry from Murray State University. He also holds Series 7 and 66 securities licenses.

Outside the office, Elliot is a valued member of his community. He is also a member of Paducah Young Professionals and Lone Oak First Baptist Church.

E-mail Elliot.

Jacqueline Ponting
Financial Advisor

Jackie began her financial services career and joined Stifel in 2021. She has a passion for forming relationships and helping prepare clients for their financial future.

Jackie earned her Bachelor of Science degree in Nursing from Murray State University. She holds Series 7 and 66 securities licenses.

Outside of the office, Jackie loves to golf, travel, and spend time with her fiancé, Conrad, and her two animals, Cliff and Susan. She is also a member of St. Thomas More Catholic Church.

E-mail Jacqueline.

Sally Teague
Client Service Associate

Sally started her financial services career in 2007 and joined Stifel in 2018. Prior to Stifel, she assisted Adam as a Client Service Associate at Edward Jones for nearly five years. Prior to that, she worked in retail and commercial banking. She has earned a Bachelor of Science in Public Relations, Minor in Organizational Communications at Murray State University.

E-mail Sally.

Stephanie Baer
Client Service Associate

Stephanie began her financial services career with Stifel in 2018. She brings 10-plus years of sales, customer service, promotions, and coordinating experience to the team. Prior to joining Stifel, she earned a B.S. in Environmental Health Science from Eastern Kentucky University.

Outside the office, Stephanie has volunteered at Livingston County Middle School, where she helped teach children about anti-bullying, safe places, and suicide awareness/prevention.

E-mail Stephanie.

Lacey Metzger
Client Service Associate

Lacey began her financial services career with Stifel in 2020. Prior to Stifel, she worked within a public school system for nearly 10 years. She obtained an A.S. from Mid Continent University. As first point of contact, Lacey is responsible for building strong rapport with clients and ensuring accurate maintenance on all client accounts.

E-mail Lacey.